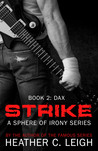 Strike by Heather C. Leigh
My rating: 4 of 5 stars
I received this book as a gift in exchange for an honest review.
Strike is book two in the Sphere of Irony Series, but for those of you who haven't read the first book, it's okay because this book can stand on its own. The only warning I have for you, is to be prepared because this book is going to take you on one heck of an emotional journey.
Dax didn't have an easy childhood. His father was obsessed with fighting and is controlling. He even came up with these rules for Dax to follow. Dax does what his dad tells him to and follows all the rules, but he has bigger dreams, dreams of being a musician, and makes plans to leave.
Kate has been in love with Dax for what seems like forever, but he doesn't seem to notice her. But Dax does notice her one day and from then on, he decides to go after what he wants….and he wants Kate.
It's not smooth sailing for these two. Women come too easily for Dax and Kate isn't just the type of girl to mess around with. Dax screws up big time and these two part on not so good terms. But even when they are apart, in the back of their minds they are still thinking about the other one.
These two meet again, but of course nothing is ever easy with them. Jealousy comes into play and someone intentionally tries to pull them apart. Not to mention the paparazzi makes their lives a living hell. Putting Dax and Kate in a no win situation.
Strike is one of those books that you can't put down, because you HAVE to find out if the characters are going to get a happily ever after. I had my doubts with this story, but this author pulled through and gave me what I was looking for.
Reviewed by Jennifer for MNP